Electroplating is the process of depositing a metal coating onto the surface of an object through the use of an electrical current. The process has come a long way since its initial development in the early 1800s. Electroplating has evolved into a highly complex process requiring a high level of precision and expertise. That's why choosing an experienced plating business with a track record of innovation is so important for any industrial or manufacturing operation.
SHARRETTS PLATING COMPANY: A RECOGNIZED PLATING BUSINESS LEADER AND INNOVATOR
Since 1925, customers from around the globe have come to rely on Sharretts Plating Company to help them lower costs, improve quality, reduce lead times and enhance their competitive positions. Over the course of more than 80 years, our plating business has developed a loyal customer base that continues to expand to this day. Our customers know they can count on us to provide the most cost-effective solutions for their specific plating or other metal finishing needs.
Full-Service Plating Business Based in Pennsylvania
Headquartered at its 70,000-square-foot South Central Pennsylvania production facility, Sharretts Plating Company is a full-service plating business that has built an international network of proprietary chemical and industrial plating partners committed to satisfying your most demanding technical, time-to-market and economic requirements. Our current initiatives include building a new production line that will further reduce lead times to better serve our customers.
INDUSTRIES OF ALL TYPES AND SIZES BENEFIT FROM OUR PLATING BUSINESS
From Fortune 500 leaders to tiered suppliers in the automotive, semi-conductor, electronics, hardware, telecommunications and many other industries, customers benefit from aggressive pricing strategies and cost-cutting service packages in our industrial plating services.
Our industrial plating capabilities include everything from:
Our plating business is one of the few in the industry that can effectively plate metals such as gold and nickel onto titanium, and we have perfected the difficult process of plating onto plastics.
Request a free quote
For Your Metal Finishing & Surface Treatment Needs
QUALITY IS A TOP PRIORITY IN OUR PLATING BUSINESS
Recognized as an industry leader and early adopter of business improving processes, Sharretts Plating Company attained ISO Certification in 1994 and was the first U.S. industrial electroplating company to be awarded the Department of the Navy's Best Manufacturing Practices Award. Achieving ISO certification ensures that our plating company is committed to providing products and services that are safe, reliable and of the highest possible quality. It also demonstrates our ability to develop the most efficient production processes that reduce errors and minimize waste.
A Customer-Focused Plating Business
Our commitment to the customer is what makes us unique in the plating business. Meeting customer's needs in any way they can, Sharretts Plating Company employees are dedicated to the concept of TOTAL CUSTOMER SATISFACTION. With hundreds of years of combined industrial plating experience, work is handled by scientists, engineers and production staff highly and continually trained in technical, leadership, team building, and problem-solving skills.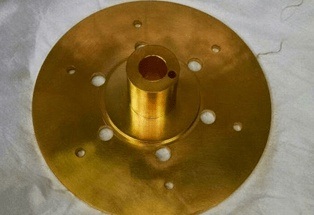 Our Plating Business Emphasizes Protection of the Environment
Finding ways to protect and preserve the environment is a primary concern of every metal plating business these days. Our plating business adheres to environmentally friendly industrial plating standards.We focus on developing processes that achieve the delicate balance between high efficiency and productivity and maintaining a "green" operating environment. We don't do this just to comply with today's stringent government regulations - we also believe it's the right thing to do.
EXPERT CONSULTING SERVICES ARE ALSO AVAILABLE
We also offer consulting services to ensure our customers select the plating solution that is most appropriate for their business and that it is implemented effectively.Our experienced and knowledgeable consultants can visit your facility and conduct a complete assessment of your current operation. We'll then recommend the best solution for your needs and budget.
LEARN MORE ABOUT WHAT OUR PLATING BUSINESS CAN DO FOR YOU
Experience the Sharretts Plating Company differences for yourself. Contact us today to discuss your needs and how our plating business can fulfill them. You can also click here to receive a free quote for the various services our plating business has to offer!
LEARN WHAT OUR MANY SATISFIED CUSTOMERS HAVE TO SAY ABOUT Us
"I would like to thank you for the help you have provided us in developing an electroless nickel plating technique on an unusual substrate. The sample platings you provided show that we should be able to reach our goals. I especially appreciate your willingness to take on an unusual job, with the uncertainties that that entails...We are looking forward to working with you in the future on our plating needs."
– Robert K.