We'll cover the following topics on electroless nickel. Use the links below to jump to each section.
DO YOUR PARTS LACK LONGEVITY AND OVERALL PERFORMANCE?
While electroplating is very popular for its low cost, many customers realize later on that nickel and chrome electroplating or the use of stainless steel does not provide the intended outcome of total life cost reduction that was the original goal.

THE IMPORTANCE OF PLATING
Plating is usually the only barrier between your parts and the atmospheric working conditions. Often, there is no plating applied to an end product, so very early in the life of the part, corrosion and wear deteriorates functionality and ultimately the total unit which it was assembled into. You don't have to settle with the alternative of using expensive metal alloys such as stainless steel in the future or a lesser quality electroplated finish to keep your parts from failure.
APPLYING ELECTROLESS NICKEL PLATING SOLUTIONS
One form of plating that is commonly used in many industrial applications is nickel electroplating, which offers excellent corrosion protection and increases wear resistance. However, electroless nickel plating solutions are often chosen as an alternative to nickel electroplating. Unlike nickel electroplating, electroless nickel plating does not require the use of an electric current to produce the desired reaction. Instead, the deposition of the nickel metal occurs via autocatalytic reaction.
The advantages of electroless nickel plating solutions include:
No need for an electric current, which can minimize utility bills
Easier to achieve an even coating on parts
Greater flexibility in terms of coating volume and thickness
Automatic monitoring of chemical replenishment during the plating process
Ability to achieve various levels of finish brightness
By applying electroless nickel plating, you'll have peace of mind knowing that your parts will last indefinitely in accordance to a proper engineering specification. You won't have to worry any more about the rising cost of exotic metals and the burdening detriment of electroplating that creates out-of-tolerance parts and lack of mechanical and environmental protection. The risk of corrosion and wear will be abated.
ELECTROLESS NICKEL COATING PROCESS
Early experimentation of electroless nickel coating first occurred accidentally nearly a century and a half ago. It wasn't until the mid-1940s that it commanded any level of major laboratory curiosity. Due to fast-moving innovation and exciting potential, the ensuing decades saw a dramatic adaptation to the electroless nickel coating process in the metal finishing industry. Today, various types of electroless nickel coating produce a nickel phosphorus alloy coating commonly used in finishing everything from kitchen utensils and bathroom fixtures to rotors, drive shafts and mechanical tools.
What is the relative difference in electroless nickel coating costs?
When considering types of electroless nickel coating, it pays to understand how the process affects the finished product. Electroless nickel coating costs vary based on the type of electroless nickel bath that is used. Other factors influencing price include material and component availability and current market conditions. In general, a nickel-phosphorous alloy is the least expensive option, while composites are the most expensive. Use the chart below to make a cost comparison. You can also contact Sharretts Plating Company to receive a free price quote for electroless nickel plating and to learn more about the entire plating process.
| Type of Electroless Nickel Bath Matrix | Deposit Cost $ / Mil-Ft² |
| --- | --- |
| Ni-P | $1.00 - $3.00 |
| Ni-B | $10.00 - $20.00 |
| Composite EN-P | $5.00 - $10.00 |
| Composite EN-B | $15.00 - $25.00 |
* These figures were calculated at various points throughout 2009.
Electroless nickel plating is a process in which a nickel alloy is deposited on a metal surface via chemical reaction. Unlike nickel electroplating, electroless nickel plating does not require a power source to produce the deposit. The electroless nickel coating can help reduce the effects of corrosion and wear, which can extend the useful life of metal parts and equipment.
Request a free quote
For Electroless Nickel Plating
TYPES OF ELECTROLESS NICKEL

How Do I Know Which Type of Electroless Nickel Plating to Use?
Step 1: Answer these questions to determine which you need:
Describe the industrial application for this part.
What traits are needed? Some examples may be magnetism and conductivity.
Describe the environment which the parts are going to be exposed.
How many hours of atmospheric testing must the parts pass and at what temperatures?
Quantify the needed hardness (Rockwell or Vickers) of the finish after plating.
Is the part being impacted or worn to a specific force level?
What is the acceptable coating weight loss (according to the Tabor Wear Index)?
Describe the next manufacturing steps.
Does the part get soldered or bonded? Will there be another finish applied on top of the electroless nickel?
Step 2: Choose the right electroless nickel plating for your parts.
Below is a list of our electroless nickel plating solutions that produce various desired outcomes depending on your application end use need.
Click on products for more details.
Electroless nickel CORROSION PROTECTIVE FINISHES
Electroless nickel WEAR RESISTING FINISHES
Low Phosphorous Electroless Nickel
This electroless nickel bath contains up to 5% phosphor and was developed to handle higher temperature environments, offer increased hardness and reduced wear, and due to the low amount of alloyed phosphor it inhibits better solderability, and increased electrical conductivity. Corrosion protection is poor when exposed to acidic environments as compared to good protection in high pH (alkaline) environments e.g. chemical manufacturing of caustic soda and chlorine. This alloy creates compressive stress which decreases fatigue failure on steel alloys. This is a more economical choice as compared to Boron electroless nickel deposits.
Mid Phosphorus Electroless Nickel
Containing 5% to 9% phosphor, mid phosphorous electroless nickel has moderate corrosion and wear resistance. This coating is typically bright. The bath is the most economical as compared to the other electroless nickel bath formulations. It is a great choice for bringing back tolerance of under-sized parts. One key problem is that this bath creates a moderate level of tensile stress as deposited onto steel.
High Phosphorous Electroless Nickel
High Phosphorous Baths are defined as having above 10% phosphor and form the best quality deposit for most corrosive atmospheres since they form a true amorphous (glass like) surface absent of any crystalline structures. They typically do not contain more than 13% phosphor in their deposits. High phosphorous electroless nickel is completely non magnetic as plated and is a great choice for electronics that need shielding characteristics to stop interference from other electronic devices.
Boron Electroless Nickel
This electroless nickel baths contain 0.5% to 5% boron. There are two main classes of Boron electroless nickel coatings. The first class contains lower amounts of boron (0.5% – 3%) for improved solderability and conductivity meant for use in the electronics sector. The second class of these coatings is utilized for their increased hardness and resistance to wear as compared with phosphorous electroless nickel coatings. The high boron electroless nickel (3-5%) coating as plated is as hard as chrome and can be heat treated further to exceed that hardness level. This second class of boron electroless nickel coating is used mostly in the automotive and aerospace industries as a replacement for chrome plating. However boron electroless nickel coatings are a poor choice for corrosion protection as compared with phosphor electroless nickel coatings because they have higher internal deposit stress which creates more porosity.
SPC only offers plating services for the first class of boron electroless nickel (.5-3%).
Composite Electroless Nickel Coatings
electroless nickel composite coatings are created by adding particles into the bath which then become occluded (deposited) with the nickel alloy. These particles range in size from 0.5 – 10 um (20 – 400 u") in diameter. The average composite electroless nickel coating contains anywhere from 10 – 30% particles. These composite coatings are married well with any matrix electroless nickel baths and can combine both hard and soft particles in one uniform coating. The potential outcome the new electroless nickel matrix will vary upon the ratio of hard and soft particle volume and also by the method applied.
Carbides/Diamonds
Ceramics and minerals are very hard and in many cases nearly indestructible. They serve as a great choice since they have very high hardness values and also have very high melting points thus reducing abrasion and wear loss of the overall electroless nickel composite coating. Composite coatings are rough and dull as plated. Post plating grinding and buffing may improve the visual aesthetic. These coatings are more expensive (see below table) compared to boron and phosphor electroless nickel plating by themselves. Some examples of the types of particles are aluminum oxide, silicon carbide, tungsten carbide, and in rare cases diamonds or other mined minerals.
Polymers
Polymers such as fluorocarbons are used to minimize friction of a part and also reduce wear. Most electroless nickel composite polymer coatings have a range of 10 – 30% particle composition by volume. These polymers can be evenly dispersed and occluded into the nickel coating. The coating produces a matte grey to chalk white appearance as plated. The most popular fluorocarbon coating is Teflon™. Particle sizes are of the same range as hard particle sizes. These coatings create good release and anti-galling properties. Most polymers have much lower melting points as compared to hard particles and begin to melt around 330° C (626° F) such as Teflon™ while there are other fluorocarbons that have higher melting points nearer to 1000° C (1832° F).
ELECTROLESS NICKEL PLATING SOLUTIONS FROM SPC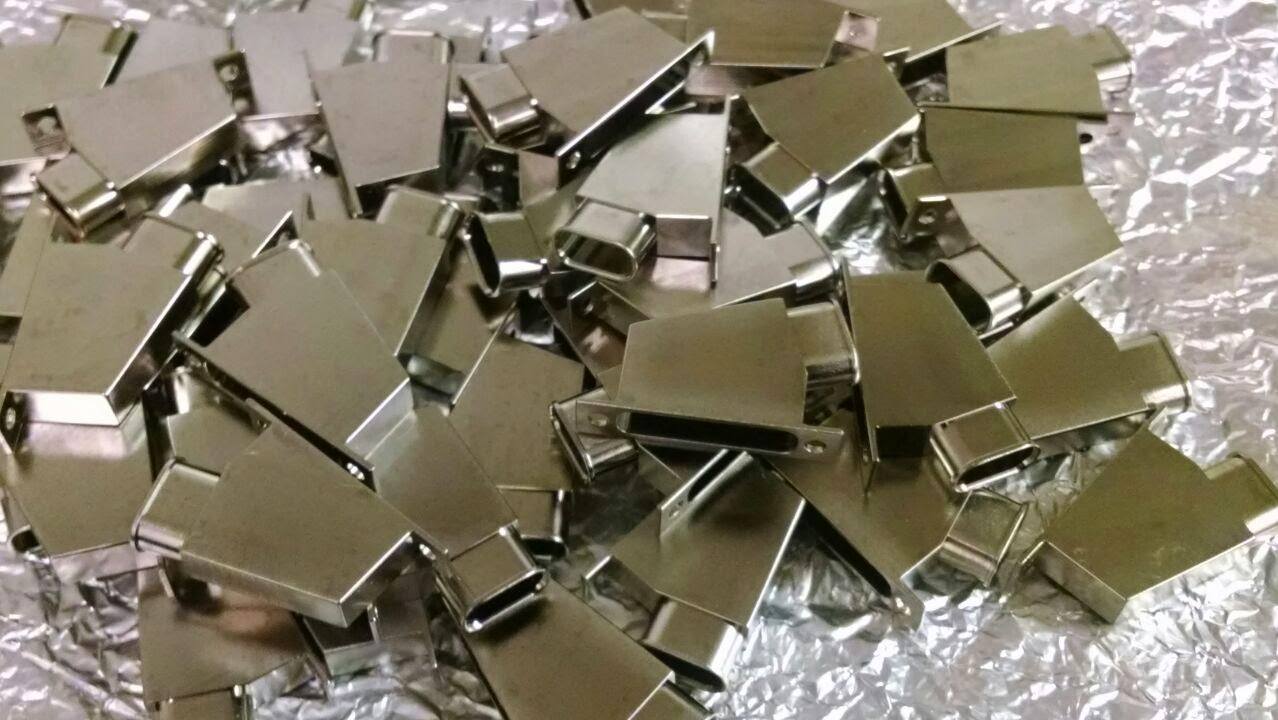 Many original equipment manufacturers (OEMs) come to Sharretts Plating Co., Inc. (SPC) for their electroless nickel plating needs. OEMs want to make end products with an advantage over the competition. Other electroless nickel customers are job shops that want to improve their machined components value. Our industrial plating company has electroless nickel plating solutions for products of varying degrees of use ranging from simple corrosion protection to others in need of better wear resistance created by occluding and infusing materials like ceramics into the coating and also low friction composites such as fluorinated carbons to create a dry self lubricating coating.

WHAT ELECTROLESS NICKEL WEAR PROTECTION CAN DO FOR YOU
If you're looking for a wear resistant coating that is also cost effective, you need to consider electroless nickel wear coatings from Sharretts Plating Company. Unlike nickel electroplating, our electroless nickel process does not require the use of electricity. Instead, the coating is applied by immersing the substrate in a specially-developed bath, producing a unique chemical reaction that promotes adherence of the nickel to the substrate. The result is a coating that is uniformly applied and offers excellent wear resistance because of its high hardness and intrinsic lubricity. These properties combine to minimize the impact of friction over time.
Getting the Maximum Electroless Nickel Corrosion Resistance
There are many options for plating with electroless nickel. Corrosion resistance can best be achieved when using a nickel-phosphorous alloy, while being sure to choose the appropriate level of phosphorous coating that pertains to the nature of the corrosive environment. However, phosphorous level is not the only factor that maximizes electroless nickel corrosion resistance. Other key factors include selecting the proper deposit thickness, carefully monitoring the process to minimize the presence of co-deposited impurities, reducing the amount of substrate defects prior to plating, choosing the ideal pretreatment cycle and applying effective post-plating treatment processes.

Applications That Can Benefit From Electroless Nickel Corrosion Resistance
The benefit of electroless nickel's corrosion resistance can make its use advantageous for companies in a number of industries. Common applications include the manufacturing of parts for automobiles, aircraft and various electronic devices, as well as for numerous chemical processing operations. Companies in the oil and gas industry also choose electroless nickel plating for superior corrosion protection in their harsh operating environments.
WE'RE A RECOGNIZED INDUSTRY LEADER
SPC has been helping companies across a wide range of industries increase quality, improve production processes and reduce operating costs for more than 80 years. Our electroless nickel and other industrial plating processes have set a lofty standard for the entire industry. As electroless nickel platers, we're known for our ability to provide innovative solutions that make a significant difference in a company's bottom line.

LEARN MORE ABOUT ELECTROLESS NICKEL PLATING
Want to learn more about electroless nickel plating? You'll find answers to many of your questions below:
Additional Resources:
CONTACT US TO LEARN MORE ABOUT OUR ELECTROLESS NICKEL PLATING SOLUTIONS
Still can't find the answer to your question? Feel free to contact the experts at SPC. We'd also be happy to arrange an on-site consultation. We can evaluate your current manufacturing processes to help you determine if our electroless nickel plating solutions are right for your company. We can also provide a no-obligation price quote for our electroless nickel plating solutions.
LEARN WHAT OUR MANY SATISFIED CUSTOMERS HAVE TO SAY ABOUT Us
"I would like to thank you for the help you have provided us in developing an electroless nickel plating technique on an unusual substrate. The sample platings you provided show that we should be able to reach our goals. I especially appreciate your willingness to take on an unusual job, with the uncertainties that that entails...We are looking forward to working with you in the future on our plating needs."
– Robert K.