SULFATE AND SULFAMATE NICKEL PLATING
Tracing its origins to the early 1800s, nickel plating, also known as nickel electroplating, is the process of applying a nickel coating to the surface of another metallic substance by means of electrolytic deposition. Nickel plating is typically used to provide greater wear and corrosion resistance and to add thickness to undersized parts. Nickel plating may also be used for aesthetic purposes, as nickel's brightness can enhance the appearance of an otherwise dull surface. SPC implements two types of nickel electroplating: sulfamate and sulfate.

NICKEL PLATING KEY CHARACTERISTICS
Benefits of nickel electroplating start with corrosion resistance, as the process creates a microcrystalline structure that is less porous and provides a strong barrier to basis metals. Both sulfamate nickel plating and sulfate nickel plating offer excellent wear resistance and can be further fortified by extreme heat treatments and the use of diamond composites. Alloyed with other metals such as tin or tungsten, nickel electroplating delivers exceptional resistance to the elements, hardness and conductivity that lend itself to numerous applications.
Sulfate and sulfamate nickel plating each contains its own unique characteristics that apply themselves to specific industry used. Sulfate nickel plating is the less expensive formula and is used when a low level of thickness is required. Sulfate's extremely bright finish also makes it the best option when aesthetics are of primary concern. Sulfate's relative lack of durability, however, makes it less appropriate for high build applications.
With sulfamate nickel electroplating, the high bath maintenance also means a greater overall nickel plating cost when compared to sulfate. However, its superior strength makes sulfamate the better choice for high-speed plating applications. Sulfamate nickel plating also offers lower overall stress when compared to other formulation types.
SPC NICKEL ELECTROPLATING AS A BASE LAYER
Both sulfate and sulfamate nickel plating can perform a variety of important functions. One common function is to serve as a base layer for secondary plating applications that is normally used when coating precious metals such as gold and silver.
NICKEL ELECTROPLATING BENEFITS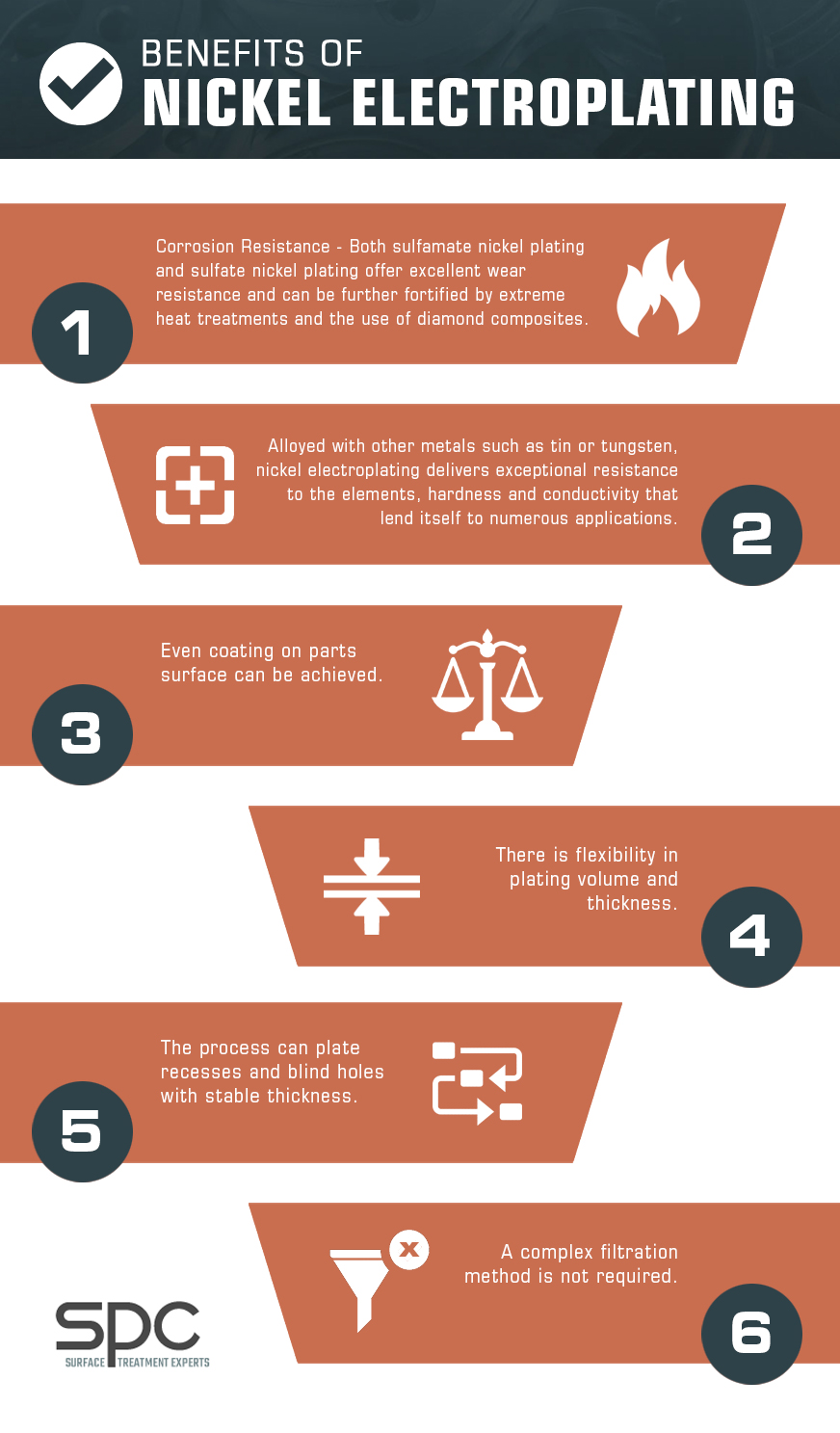 NICKEL ELECTROPLATING FOR GREATER CORROSION AND WEAR RESISTANCE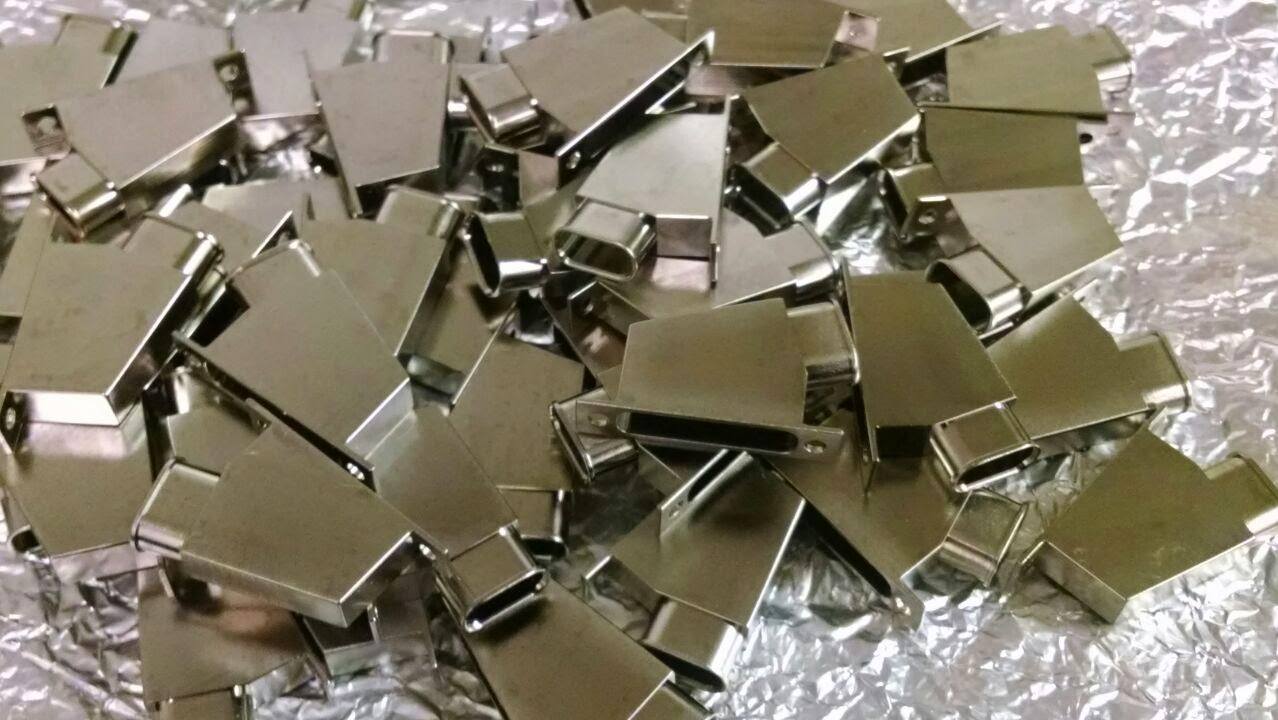 As indicated earlier, nickel electroplating also provides an effective means of corrosion and wear resistance. Regarding corrosion resistance, the highly micro-crystalline structure results in reduced porosity and forms an extremely effective anti-corrosion barrier to the basis material.
In terms of wear resistance, the hardness created by the plating process can be enhanced through the use of heat, making the resulting product similar to chromium deposits. When used with diamond composites, materials such as silicon carbide, cubic and hexagonal boron nitride, and tungsten carbide, nickel electroplating can add intrinsic hardness by binding them into the plated surface. This also serves to reduce static friction. Alloying nickel coatings with metals or metalloids such as tungsten, tin, manganese and boron which improves corrosion resistance, hardness, conductivity and solderability.
Request a free quote
For Nickel Coating
NICKEL PLATING FOR FRICTION REDUCTION
Nickel plating is frequently used as a method of friction reduction in certain materials. Fluorinated compound composites serve as a viable substitute for the tin and cadmium coatings to electronic connectors, and they are also used with various food processing products.
ELECTROFORMS IN MANUFACTURING
Manufacturers make use of electroforms, which are parts made from nickel, copper and gold with the aid of a mandrel. Nickel is often selected for its lower stress level and high degree of hardness. Another reason to use electroforms are the fact that complex parts with geometries that cannot be produced accurately through traditional means can be made to exact final tolerances from disposable mandrel materials. Common applications include molds for aircraft jet engine housings, avionic wave guides, automotive car body parts such as dashboard panels, creation of surface textures for synthetic fabrics such as pleather, production of golf club grips, plastic lenses used in overhead projectors, and compact discs for music and video.
SPC NICKEL ELECTROPLATING APPLICATIONS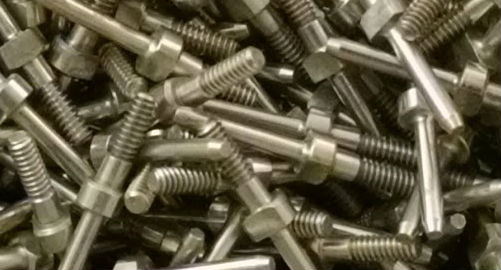 SPC uses nickel plating for a wide variety of industrial and military applications. One common application is use in connectors for electronics commonly found inside homes, automobiles and gadgets such as cell phones. Nickel plating is a key component of military and industrial hardware products, including firearms and radar wave guides, as well as material handling and food processing equipment. Nickel plating is also used in bus bars, which are copper and aluminum bars used to transport electricity to heavy-duty equipment such as generators.
DISCOVER THE BENEFITS OF NICKEL ELECTROPLATING WITH SPC
Since opening our doors back in 1925, we've built a strong reputation of providing customers around the globe with a first-class product and superior customer service experience. After 80 years in the plating business, our capabilities continue to grow in step with our expanding base of satisfied customers. Headquartered in South Central Pennsylvania, our 70,000-square-foot production facility has the state-of-the-art capabilities to efficiently serve your sulfamate and sulfate nickel plating needs.
SPC's highly educated team of scientists, engineers and production technicians are continually trained and instructed on the latest processes and standards of nickel electroplating. We're not only on the cutting edge in producing top-quality products, but our plating business also adheres to environmentally friendly industrial standards your business can be proud of. Our knowledgeable industry veterans will help assess your needs for sulfamate or sulfate nickel plating in order to recommend the corrosive resistant finish best suited to your application.
To learn more about how our nickel plating services can benefit your business, contact Sharretts Plating Company today. Discover what makes SPC one of the best nickel plating companies in the world!
Find out about our nickel plating services.
Additional Resources:
LEARN WHAT OUR MANY SATISFIED CUSTOMERS HAVE TO SAY ABOUT Us
"I would like to thank you for the help you have provided us in developing an electroless nickel plating technique on an unusual substrate. The sample platings you provided show that we should be able to reach our goals. I especially appreciate your willingness to take on an unusual job, with the uncertainties that that entails...We are looking forward to working with you in the future on our plating needs."
– Robert K.