UPDATE (4/16/2021): SPC is no longer offering zinc-nickel plating. Please refer to our coatings page to learn about the other coatings we offer.
Zinc-Nickel Plating by SPC
While zinc and nickel are frequently used in industrial plating on their own, an alloy of the two metals offers a number of important benefits. In particular, a zinc-nickel alloy offers far superior corrosion protection than when using zinc alone, as the addition of nickel slows the zinc corrosion process. Passivation treatments and top coats can also be used to improve the long-term performance of the finish. When plating zinc-nickel, the alloy typically consists of a combination of 6-20% nickel and 80-94% zinc.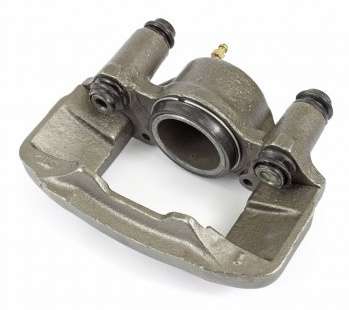 Zinc-Nickel Applications
Zinc-nickel plating is widely used in the automotive industry to provide corrosion protection for various automotive parts. When plating zinc-nickel, it will serve as a sacrificial coating and corrode before the underlying base material. During salt spray testing, zinc-nickel coated parts can withstand the formation of white rust for up to 500 hours, and up to 1,000 hours for red rust.
In general, zinc-nickel plating is preferable to standard zinc plating in any situation where a zinc part or component comes in contact with aluminum. The zinc-nickel coating will slow the corrosion process in these instances. Zinc-nickel is also more capable of withstanding the higher temperatures produced by automotive engines than other zinc alloys such as zinc-cobalt or zinc-iron.
Additional Zinc-Nickel Plating Applications
There are many other industrial zinc-nickel applications. The electrical transmission industry makes use of zinc-nickel plating in the manufacturing of anchors, coaxial cables and cleat bolts. The fastener, aerospace and defense industries have gravitated towards zinc-nickel plating as an eco-friendly replacement for cadmium plating. Zinc-nickel is compatible with the lighter metals that are normally used in aircraft manufacturing such as magnesium and aluminum.
This alloy is also frequently used on the tubing for fuel and hydraulic parts and components. Additional zinc-nickel plating applications include the manufacturing of firefighting and railway equipment, as well as commercial transportation vehicles such as buses, tractor trailers and light trucks.
Other Key Zinc-Nickel Benefits
Zinc-nickel deposits are extremely bright, making zinc-nickel plating an excellent choice when a more lustrous finish is desired. Zinc-nickel plating minimizes the development of "whiskers," which are thin metal strands that can cause damage to the finished material. Zinc-nickel plating provides superior surface coverage and uniform plate distribution. Finally, zinc-nickel plating provides excellent adhesion and deposits that are free of blisters.
The SPC Zinc-Nickel Plating Processes
The zinc-nickel plating process uses a zinc-nickel electrolyte solution that is usually alkaline in composition. Depending on the product, it can be used with rack electroplating or barrel plating processes. Acid zinc-nickel solutions are also available that can provide a cost-effective alternative and are often preferred for brake caliper manufacturing.
Sharretts Plating Company offers both rack and barrel zinc-nickel plating that can meet even the most complex plating challenges. We've been providing effective plating and metal finishing solutions for industries of all types for more than 80 years, and we're widely recognized as an industry innovator and leader. Every SPC employee is committed to achieving total customer satisfaction.
Additional Resources:
Contact Us to Learn More About Zinc-Nickel Plating
Contact us today to learn more about how zinc-nickel plating can help you win the never-ending battle against corrosion and increase the overall efficiency of your industrial manufacturing operation. We'll also be happy to provide additional information about the many benefits of zinc-nickel plating, as well as our zinc-nickel plating process.
LEARN WHAT OUR MANY SATISFIED CUSTOMERS HAVE TO SAY ABOUT Us
"I would like to thank you for the help you have provided us in developing an electroless nickel plating technique on an unusual substrate. The sample platings you provided show that we should be able to reach our goals. I especially appreciate your willingness to take on an unusual job, with the uncertainties that that entails...We are looking forward to working with you in the future on our plating needs."
– Robert K.